IRATA Safety Notice - ENTANGLED TOOL LANYARD DURING DRILLING OPERATIONS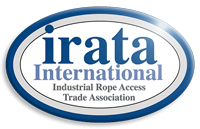 IRATA Safety Notice- keeping our industry safe
1. The incident
The incident occurred in a shipyard on board a drilling vessel. A team consisting of four members was on their task to drill m18 hole for the support at the starboard side of the derrick at level 7. The team comprised:
 Employee #1 is on top of the drilling area to lube the drilling bit;
 Employee #2 is on rope doing the drilling from the bottom towards the upper level;
 Employee #3 is holding the safety line for the magnetic drill;
 Employee #4 is stand by at the edge of the platform to hand over equipment.
Employee #1 is holding the cutting oil attached to a lanyard, which is connected to his cow's tail, while Employee #2 is doing the drilling. Employee #1 repeatedly lubricated the drilling bit by pouring the oil directly from the container and keeping a distance around 10mm. At one point the lanyard of the cutting oil container made contact with the drill bit which caused Employee #1 left little finger to become caught and crushed in between the lanyard and the drilling bit.
2. Incident analysis
Root cause:
- Human error
- lack of concentration / attention;
- 'Moving parts' hazard was not identified and highlighted.
3. Control measures implemented
Safety meetings to be held with all crew to raise awareness of concentration and attention during all operation.
Safety meetings to be held with all crews to raise awareness of hazard identifying involved in all tasks.
4. Recommendations for further control measures
 Conduct thorough pre-use checks of items/tools/equipment used at height regarding its suitability for use in a tethered configuration;
 Where appropriate choose auto feed lubrication systems over manual feed;
 Use extended nozzles so that an increased distance between lubricator and machine is maintained;
 Use elasticated or retractable tool tethers/lanyards to reduce unnecessary slack coming into contact with moving machinery thus reducing the entanglement risk.
5. Recommendations for further reading
 For further information on identifying hazards and measuring risk reference ICOP Annex A – Risk assessment;
 For further information on safe execution of sequence of procedure reference ICOP Annex B – Safety method statements;
 For further information on using work equipment from anchor lines reference ICOP Annex M - Use of tools and other work equipment.